16aprallday2015 Al Sharq Youth Conference - Engaging the Future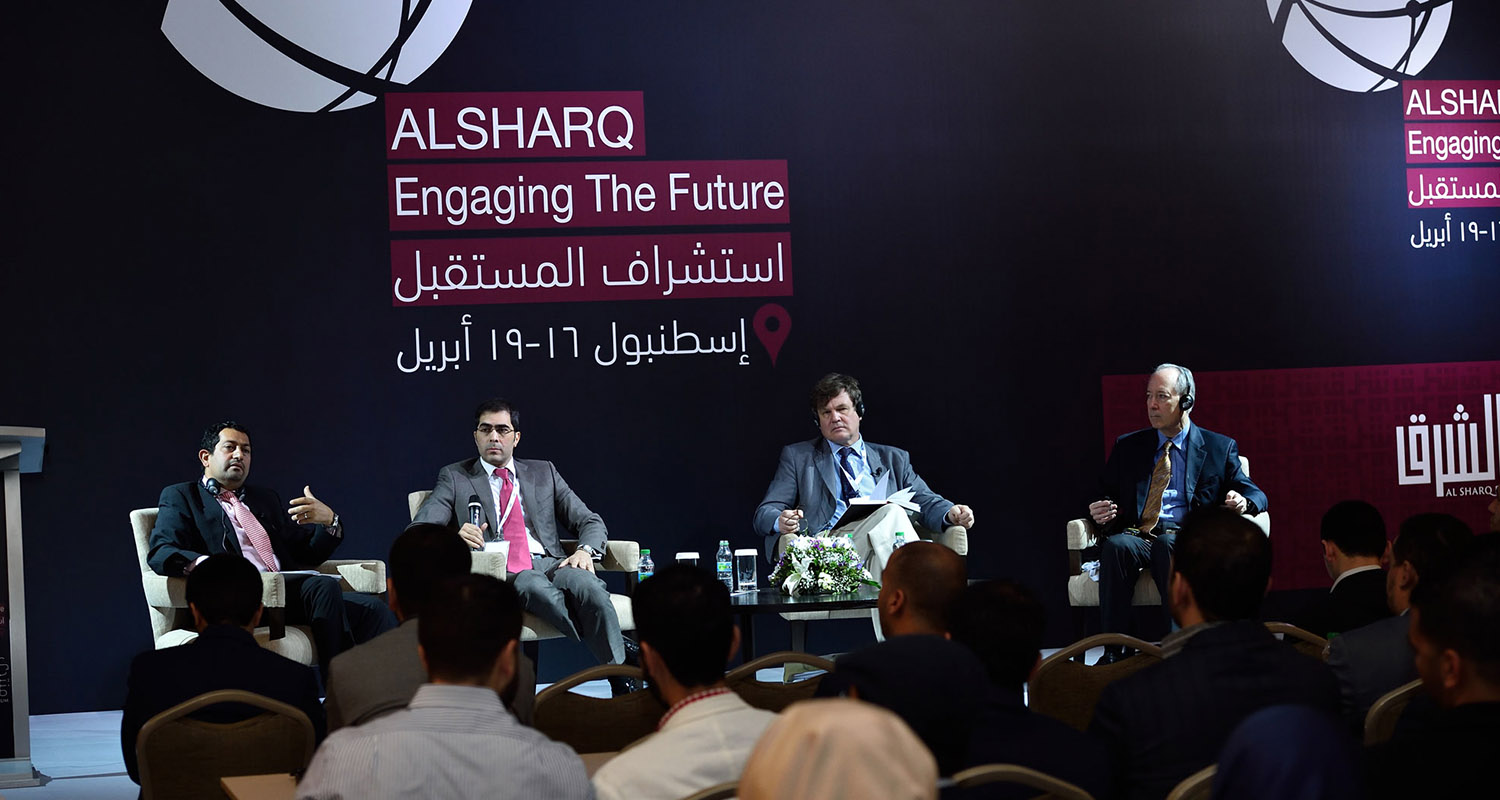 Event Details

Al Sharq Youth Conference is the yearly convention for the network. It brings together all key members and partners of the network and sets the agenda for the coming year.

Overview:

Al Sharq Youth hosted its annual conference between April 16–19, 2015. The Conference targeted about 300 active youth from Al Sharq region. The event mainly tackled topics related to the fields of media, politics/strategy, and economy, it was divided into open panels that discussed the important transformations on the network's areas of focus.

In addition, a pre-event activity was held: a media/technology Hackathon, where seven teams of media, technology and design experts participated. In the closing ceremony Al Sharq Youth awarded the winning team in the Hackathon program.
Time

april 16 (Thursday) - 19 (Sunday)
Speakers for this event
ِِِAbdallah Absi

Abdulhafiz Al Sawi

Ahmet Uysal

Ahmet Uysal

Marmara University

Antoine Laurent

Basheer Nafi

Cemalettin Hasimi

Cemalettin Hasimi

Turkish Prime Ministry

Clayton Swisher

Dan Gillmor

Erdal Karagol

Erol Ozvar

Galip Dalay

Haroon Meer

Haroon Meer

Security Geek at Thinkst. We build

Ibrahim Kalin

Ibrahim Kalin

Presidential Spokesperson, Ambassador, Deputy Secretary-General of the Presidency and Special Adviser to the President of Turkey

Ibrahim Turhan

Ibrahim Turhan

MP, Former CEO - Istanbul Borsa

Inga Thordar

Jacques Rosselin

Mamdouh Elwali

Peter Oborne

Riyaad Minty

Riyaad Minty

Digital Manager - TRT International

Sami Zeidan

Sami Zeidan

Senior Presenter at Al Jazeera English

Senior Presenter at Al Jazeera English

Senior Presenter at Al Jazeera English

Serah Rono

Serah Rono

Code Of Africa

Wadah Khanfar

Wadah Khanfar

Al Sharq Forum President

Al Sharq Forum President

Yaser Abu Hilalah

Yaser Abu Hilalah

Al Jazeera
Schedule
April 16, 2015

9:00 Media Hackathon in partnership with GEN9:00 - 22:00Media Hackathon in partnership with GEN

April 17, 2015

9:00 Media Hackathon in partnership with GEN9:00 - 22:00Media Hackathon in partnership with GEN

April 18, 2015

9:00 Introduction & Opening Remarks9:00 - 9:30Introduction & Opening Remarks Speakers: Wadah Khanfar

9:30 Panel 1: The Middle East between regional dynamics and popular aspirations.9:30 - 11:00The Middle East between regional dynamics and popular aspirations.Speakers: Basheer Nafi, Peter Oborne, Sami Zaidan, Wadah Khanfar

11:30 Politics: Soft power, public diplomacy and the premises of a new foreign policy11:30 - 12:00Politics: Soft power, public diplomacy and the premises of a new foreign policySpeakers: Cemalettin Hasimi

12:00 Censorship 2.0 - User generated content vs sock puppets12:00 - 12:30Media: Censorship 2.0 - User-generated content vs sock puppets.Speakers: Haroon Meer

12:30 Starting data journalism in a newsroom 12:30 - 13:00Media: Starting data journalism in a newsroom Speakers: Antoine Laurent

15:00 A vision for regional economic integration.15:00 - 16:30Panel 2: A vision for regional economic integration.
Moderator: Galip DalaySpeakers: Erdal Karagol, Erol Ozvar, Mamdouh Elwali

17:00 Investigative journalism in the age of information.17:00 - 17:45Media: Investigative journalism in the age of information. Speakers: Clayton Swisher

17:45 Crowdfunding for media startups. 17:45 - 18:30Media: Crowdfunding for media startups. Speakers: ِِِAbdallah Absi

April 19, 2015

9:30 In the Era of State Surveillance, Who Controls the Media?9:30 - 11:00Panel 3: In the Era of State Surveillance, Who Controls the Media?
Moderator: Sami Zeidan Speakers: Dan Gillmor, Peter Oborne, Yaser Abu Hilalah

11:30 Arab Spring Future: a transitional phase from old style authoritarianism to a new style authoritarianism or the breakout of a continuing generational transformation?11:30 - 13:00Politics: Arab Spring Future: a transitional phase from old style authoritarianism to a new style authoritarianism or the breakout of a continuing generational transformation? Speakers: Ahmet Uysal

11:30 Economic features of the regional projects in the region11:30 - 13:00Economy: Economic features of the regional projects in the regionSpeakers: Abdulhafiz Al Sawi

11:30 Hyperlocal News: the latest trends from around the world11:30 - 13:00Media: Hyperlocal News: the latest trends from around the world Speakers: Jacques Rosselin

11:30 Developing a digital strategy for youth11:30 - 13:00Media: Developing a digital strategy for youth Speakers: Inga Thordar

15:00 The future, and opportunities of regional economic integration15:00 - 15:30The future, and opportunities of regional economic integration.Speakers: Ibrahim Turhan

15:30 Regional integration, world examples, and what relevance for MENA?15:30 - 17:00Politics: Regional integration, world examples, and what relevance for MENA? Speakers: Galip Dalay

15:30 Going viral online: engagement and the impact of video15:30 - 17:00Media: Going viral online: engagement and the impact of video.Speakers: Riyaad Minty

15:30 The rise of Global South startups and how to network15:30 - 17:00Media: The rise of Global South startups and how to network.Speakers: Serah Rono

18:00 Closing Remarks18:00 - 19:00Closing Remarks